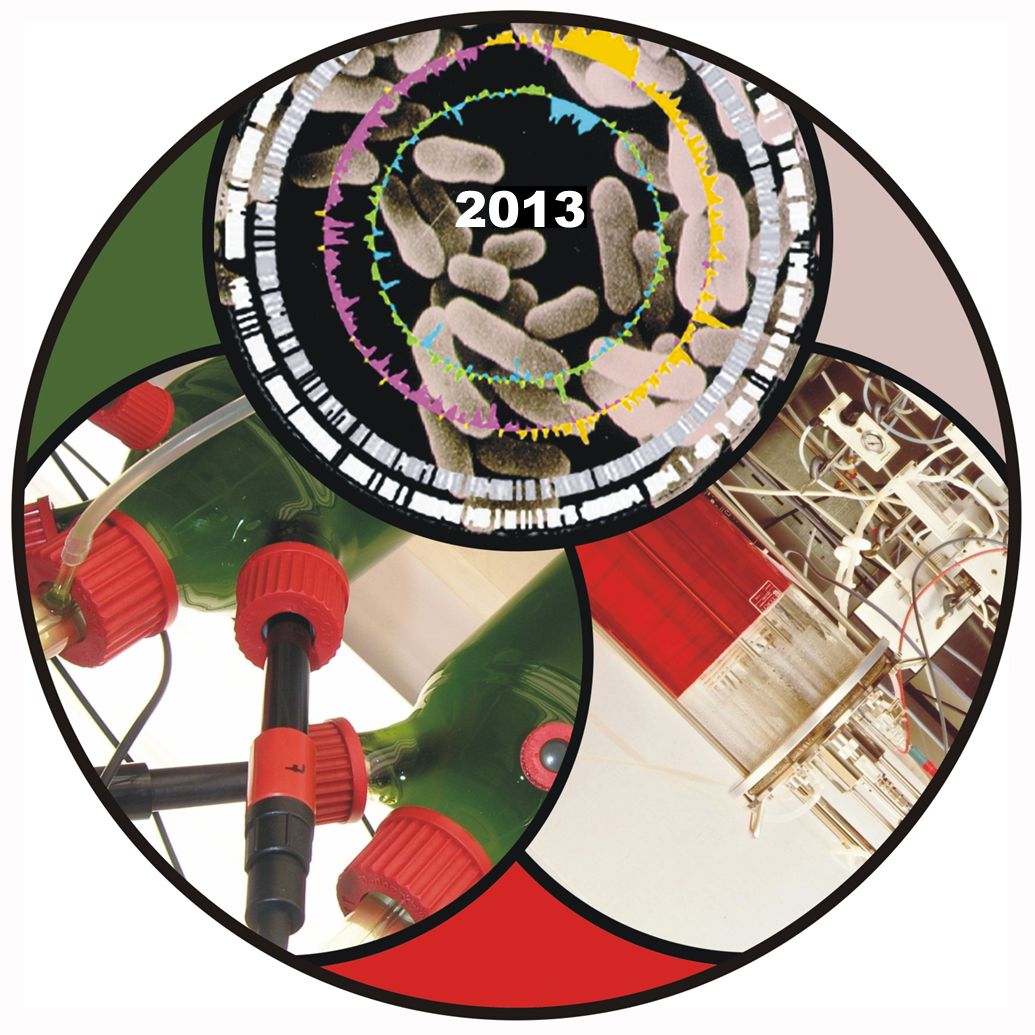 Advances in Industrial Biotechnology:
Synthetic Pathways and Reaction Cascades
Center for Interdisciplinary Research (ZiF), Bielefeld University
September 22 – 25, 2013
The Center for Biotechnology (CeBiTec) of Bielefeld University cordially invites you to attend the 3rd International CeBiTec Research Conference entitled "Advances in Industrial Biotechnology: Synthetic Pathways and Reaction Cascades". The conference will be held at the Center for Interdisciplinary Research (ZiF) of Bielefeld University from September 22nd to 25th, 2013.



Invited Speakers include:
Ian Archer (Ingenza, UK)
Jules Beekwilder (Wageningen University, NL)
Michael Bott (Forschungszentrum Jülich, DE)
Camille Delebecque (Harvard Medical School & Synbio Consulting, US)
Jean-Loup Faulon (University of Evry, FR)
Georg Fuchs (Freiburg, DE)
Patrik R. Jones (University of Turku, FI)
Olaf Kruse (Bielefeld University, DE)
Shuang-Jiang Liu (Chinese Academy of Science Beijing, CN)
Brian McNeil (Glasgow, UK)
Chris Paddon (Amyris, US)
Martin Schürmann (DSM Innovative Synthesis, NL)
Helmut Schwab (Technische Universität Graz, AT)
Eriko Takano (University of Manchester, UK)
Thomas R. Ward (University of Basel, CH)
Martin Warren (University of Kent, UK)
Industrial Biotechnology is firmly established in several industries such as food and feed, and is a central pillar of the knowledge-based bioeconomy. Industrial biotechnology is currently evolving driven by a change towards sustainable chemical production and by technological advances as evident in omics, systems biology or synthetic biology approaches.
Microbial production strains are developed and optimized rationally to enable access to alternative substrates and to novel products. This involves not only recombining DNA but also recombining the interplay of the encoded enzymes. Synthetic pathways can be composed of enzymes originating from different (micro)organisms in Nature. Metabolic networks can be engineered by combining and rewiring metabolic pathways of different origin in a single production strain. As a resource genes of characterized enzymes and pathways can be used, but increasingly also DNA sequences obtained by metagenomic approaches find application.
In Biocatalysis isolated enzymes are typically used to generate high-value products. The cascading of several reactions holds the potential not only to integrate cofactor regeneration but also to implement more complex reaction sequences in a one-pot-format.
The 2013 International CeBiTec Research Conference "Advances in Industrial Biotechnology" focuses on "Synthetic Pathways and Cascade Reactions" and will promote scientific excellence in microbial biotechnology by providing leading scientists and young researchers with a platform to present their work, to discuss current scientific understanding along with recent developments in key areas of industrial biotechnology, and to identify the priorities for further research.
The meeting will feature invited plenary lectures, poster presentations and short oral presentations.
Your are cordially invited to attend the conference. You also may actively participate in the symposium by presenting your work in poster sessions or as short oral presentation. The conference flyer can be found HERE.
Registration
Please register to the conference by using the ONLINE REGISTRATION.
Submission of Abstracts
Please submit your poster or short oral presentation abstract by using the online registration above. Please follow the abstract template specification provided HERE. Only PDF files can be uploaded.
Registration fee
Attendee's affiliation/status:
| | |
| --- | --- |
| academia | € 250 |
| industry | € 400 |
| student | € 100 |
The registration fee covers the conference materials including book of abstracts, snacks, coffee and lunch as well as the excursion and conference dinner.
Please follow the payment details provided by the ONLINE REGISTRATION process.
Accommodation
You can book your accommodation in one of the following hotels which provide special rates for conference participants:

Park Inn by Radisson Bielefeld
Telephone: +49 521 92380
Fax: +49 521 9238250
Email : This email address is being protected from spambots. You need JavaScript enabled to view it.

Further Hotels please find HERE.
Conference venue
The conference will be held at the Center for Interdisciplinary Research (ZiF) of Bielefeld University, Wellenberg 1, 33615 Bielefeld.
Travel Information
Detailed information on how to travel to Bielefeld and the Center for Interdisciplinary Research of Bielefeld University can be found HERE.
Further Information
For further information please contact This email address is being protected from spambots. You need JavaScript enabled to view it.
Acknowledgement
The 3rd International Bielefeld-CeBiTec Research Conference is jointly organised by CeBiTec, Bielefeld University and the GFT e.V. (Gesellschaft zur Foerderung des Forschungs- und Technologietransfers in der Universitaet Bielefeld e.V.).