2016-07-04 | 11th CeBiTec Symposium: Microbial Genomics and Metagenomics in Human Health and Disease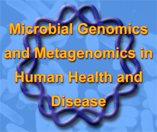 11th CeBiTec Symposium
Microbial Genomics and Metagenomics in Human Health and Disease
including the mini symposium "Bioinformatics for Metagenome Analysis" of the German Network for Bioinformatics Infrastructure (de.NBI)
Center for Interdisciplinary Research (ZiF), Bielefeld University
July 4 – 6, 2016



Registration Deadline -

Online registration is now closed. Last minute registration is still possible. If you would like to register for the conference, please download the REGISTRATION FORM, fill-out the form and send it to the e-mail address specified on the form!

The Center for Biotechnology (CeBiTec) of Bielefeld University cordially invites you to attend the 11th CeBiTec Symposium entitled
"Microbial Genomics and Metagenomics in Human Health and Disease"
The conference will be held at the Center for Interdisciplinary Research (ZiF) of Bielefeld University from July 4th to 6th, 2016.
The conference highlights the impact of the genomics revolution on medical microbiology. The major topics to be addressed are

- the genomics of major bacterial pathogens
- microbial population genetics and genomic nomenclature
- host-pathogen interactions
- the epidemiology and surveillance of pathogenic microorganisms
- antibiotic resistances
- novel sequencing techniques as a tool in human medicine
- bioinformatics tools for analyzing metagenome sequences as well as
- human microbiomes in health and disease
The last day of the symposium is devoted to research topics performed in the framework of the de.NBI initiative (German Network for Bioinformatics Infrastructure - (de.NBI). The mini symposium entitled "Bioinformatics for Metagenome Analysis" focusses on human microbiomes.
The conference programme consists of plenary lectures, short oral presentations, poster presentations and two Distinguished Lectures (see CONFERENCE FLYER). Furthermore, a Special Issue of the Journal of Biotechnology will be organized, which is open to all contributions presented at the 11th CeBiTec Symposium. I look forward very much to welcome you in Bielefeld!

(Joern Kalinowski, Chair of the Organizing Committee)
Distinguished Lectures
Joerg Hacker (Leopoldina Halle [Saale]/DE)
Peer Bork (EMBL Heidelberg/DE)

Invited Speakers
Mark Achtman (Warwick/UK)
Markus Antwerpen (Muenchen/DE)
Carmen Buchrieser (Paris/FR)
Ulrich Dobrindt (Muenster/DE)
Marc-Emmanuel Dumas (London/UK)
Edward Feil (Bath/UK)
Dirk Haller (Muenchen/DE)
Dag Harmsen (Muenster/DE)
Jay C.D. Hinton (Liverpool/UK)
Daniel Huson (Tuebingen/DE)
Ruth Massey (Bath/UK)
Harris Mavromatis (Thuwal/SA)
Alexander Mellmann (Muenster/DE)
Bjørn Nielsen (Lyngby/DK)
Ulrich Nuebel (Braunschweig/DE)
Joerg Overmann (Braunschweig/DE)
John WA Rossen (Groningen/NL)
Birgit Strommenger (Berlin/DE)
Alexander Sczyrba (Bielefeld/DE)
Joerg Vogel (Wuerzburg/DE)
Georg Zeller (Heidelberg/DE)

Programme of the 11th CeBiTec Symposium
July 4th, 2016
11:00 Registration & Snacks
12:45 Welcome Address
Olaf Kruse, Scientific Director of the Center for Biotechnology (CeBiTec) of Bielefeld University/DE
Joern Kalinowski, Microbial Genomics and Biotechnologie, CeBiTec, Bielefeld University/DE
13:00 Genomics of Major Bacterial Human Pathogens (Chairs: U. Dobrindt/D. Harmsen)
Carmen Buchrieser, Institute Pasteur/FR: Evolution of Virulence of Legionella pneumophila and Emergence of Specific Disease-Associated Clones
Joerg Overmann, DSMZ Braunschweig/DE: Large Scale Genomics of Clostridium difficile and the Role of its Mobilome
Ulrich Dobrindt, Muenster University/DE: What Defines Escherichia coli as an Extraintestinal Pathogen? Insights from Human and Animal Infections

14:30 Coffee break
15:00 Microbial Population Genetics and Genomic Nomenclature (Chairs: D. Harmsen/U. Dobrindt)
Edward Feil,University of Bath/UK: Origins of Diversity in Microbial Genomes
Mark Achtman, University of Warwick/UK: Enterobase – Salmonella Genomic Population Structure
Dag Harmsen, Muenster University/DE: Microbial Genomic Nomenclature Evolvement and Challenges for Harmonization
16:30 Coffee break
17:00 Host-Pathogen Interactions Assessed by Transcriptomic Approaches (Chair: J. Vogel/J. Kalinowski)
Harris Mavromatis, King Abdulaziz University/SA: Co-Transcriptomes: A New Appraoch to Study Host-Pathogen Interactions
Joerg Vogel, Wuerzburg University/DE: Dual RNA-seq Unveils Molecular Phenotypes and Noncoding RNA Functions in Host-Pathogen
Interactions
Jay CD Hinton, University of Liverpool/UK:Using RNA-seq to Understand the Choreography of Salmonella Transcription During Infection
18:30 Coffee break
19:00 Welcome Adress
Martin Egelhaaf, Vice-Rector of Bielefeld University
19:15 Distinguished Lecture I – Joerg Hacker, Leopoldina Halle (Saale)/DE (Chair: A. Puehler)

"Antibiotics and Antibiotics Resistances: Scientific and Social Implications"
20:15 Mixer/Poster Presentations
July 5th, 2016
09:00 Epidemiology and Surveillance of Pathogenic Microorganisms (Chairs: C. Tiemann/A. Mellmann)
Ulrich Nuebel, DSMZ Braunschweig/DE:The Population Genetics of Point Mutations and of Structural Genomic Variation in Clostridium difficile, Ribotype 027
Alexander Mellmann, Muenster University/DE:Real-Time Genome Sequencing of Resistant Bacteria Provides Precise Infection Control
Andreas Tauch, Bielefeld University/DE: Pan-Genome Analysis of Corynebacterium diphtheriae and Corynebacterium pseudotuberculosis and Detection of Niche or Virulence Factors


10:30 Coffee break
11:00 Epidemiology and Surveillance of Pathogenic Microorganisms (continued, Chairs: A. Mellmann/C. Tiemann)
John Rossen, University of Groningen/NL: Next-Generation Sequencing for Next-Generation Clinical Microbiology and Infection Prevention
Ruth Massey, University of Bath/UK: Can Genome Sequencing Help us Understand Microbial Virulence?
Birgit Strommenger, RKI Berlin/DE:Towards NGS as Frontline Tool for Routine Typing of S. aureus at the German Reference Center for Staphylococci and Enterococci?
12:30 Lunch
13:30 Novel Sequencing Technologies as a Tool in Human Medicine (Chair: J. Kalinowski)
Ralph Vogelsang, Pacific Biosciences, Muenster/DE: Pacbio Long Reads Enabling Comprehensive and Cost-efficient Genome Research Applications
Markus Antwerpen, Muenchen/DE:"Vector-Hunters" and "Clueless Snowman" – Two MinION-Missions as Part of a Rapid Deployable Laboratory
Oliver Goldenberg, Illumina, Berlin/DE: Enabling Advancements in Microbial Disease Research
15:00 Coffee break
15:30 Short Contributions of Young Scientists
17:00 Coffee break
17:30 Distinguished Lecture II – Peer Bork, EMBL Heidelberg/DE (Chair: A. Puehler)

"My Gut Microbes and Me: A Long-Term, yet Fragile Relationship"
19:00 Conference Dinner

July 6th, 2016
09:00 Bioinformatics Tools for Analyzing Metagenome Sequences (Chair: A. Sczyrba/P. Bork)
Alexander Sczyrba, Bielefeld University/DE: Critical Assessment of Metagenome Interpretation (CAMI)
Daniel Huson, Tuebingen University/DE:Computational Analysis of Microbiome Sequencing Data
Georg Zeller, EMBL Heidelberg/DE: Meta-Analysis of Clinical Microbiome Studies Using Colorectal Cancer as a Model
10:30 Coffee break
11:00 Human Microbiomes in Health and Disease (Chair: P. Bork/A. Sczyrba)
Bjoern Nielsen, TU Denmark/DK: Human Gut Microbes Impact Host Serum Metabolome and Insulin Sensitivity
Dirk Haller, TU Muenschen/DE: Dysbiosis in Chronic Intestinal Inflammation: Can We Apply Koch`s Postulates?
Marc-Emmanuel Dumas, Imperial College London/UK:Microbial-Mammalian Signalling Metabolites and Their Signalling Targets
13:05 Closing Remarks
Organizing committee
Ulrich Dobrindt/Muenster
Dag Harmsen/Muenster
Joern Kalinowski/Bielefeld (Chair)
Alexander Mellmann/Muenster
Karsten Niehaus/Bielefeld
Alfred Puehler/Bielefeld
Alexander Sczyrba/Bielefeld
Werner Selbitschka/Bielefeld
Carsten Tiemann/Bad Salzuflen
Joerg Vogel/Wuerzburg

Registration
Please register to the conference by using the ONLINE REGISTRATION. Alternatively, please use the REGISTRATION FORM. Deadline for registration: June 27, 2016

Submission of Abstracts
Please submit your poster presentation abstract by using the online registration above. Six of the most competitive posters will be selected for oral presentations (15 min each) in the session Short Contributions of Young Scientists. Deadline for submission: June 18, 2016
Registration fee
Attendee's affiliation/status:
| | |
| --- | --- |
| academia | € 200 (€ 100 for de.NBI members) |
| industry | € 300 |
| student | € 50 |
The registration fee covers the conference materials including book of abstracts, snacks, coffee and lunch and conference dinner.
Please follow the payment details provided by the ONLINE REGISTRATION process.
Accommodation

Please book your accommodation in one of the following hotels which provide special rates for conference participants. All rates refer to single rooms with en-suite facilities per night including breakfast.
Comfort Garni - Hotel Stadt Bremen (rate 66.00 EUR)
(keyword: 74144)
Telephone: +49 521 52 19 80
Fax: +49 521 52 19 81 13
Email: This email address is being protected from spambots. You need JavaScript enabled to view it.
Hotel Bielefelder Hof (rate 88.00 EUR)
(keyword: MB123U)
Telephone: +49 521 52 82 0
Fax: +49 521 52 82 10 0
Email: This email address is being protected from spambots. You need JavaScript enabled to view it.
B&B Hotel Bielefeld (rate 58.50 EUR)
(keyword: 65535266)
Telephone: +49 521 30 43 30
Fax: +49 521 30 43 34 44
Email: This email address is being protected from spambots. You need JavaScript enabled to view it.
Arcadia Hotel Bielefeld (rate 75.00 EUR)
(keyword: 160931)
Telephone: +49 521 52 53 0
Fax: +49 521 52 53 444
Email: This email address is being protected from spambots. You need JavaScript enabled to view it.
Conference venue
The conference will be held at the Center for Interdisciplinary Research (ZiF) of Bielefeld University, Methoden 1, 33615 Bielefeld.
Travel Information
Detailed information on how to travel to Bielefeld and the Center for Interdisciplinary Research of Bielefeld University can be found HERE .
Further Information
For further information please contact This email address is being protected from spambots. You need JavaScript enabled to view it.
Acknowledgement
The 11th CeBiTec Symposium is jointly organized by CeBiTec and the GFT e.V. .