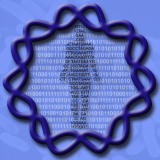 12th CeBiTec Symposium
Big Data in Medicine and Biotechnology
a joint conference of CeBiTec, de.NBI and BiCDas
Center for Interdisciplinary Research (ZiF), Bielefeld University
March 19 to 21, 2018
The Center for Biotechnology (CeBiTec) of Bielefeld University, the Bielefeld Center for Data Science (BiCDaS) as well as the German Network for Bioinformatics Infrastructure (de.NBI) cordially invite you to attend the 12th CeBiTec Symposium entitled Big Data in Medicine and Biotechnology. The second day of the symposium is organized by the de.NBI network and will focus on ELIXIR use cases. The conference will be held at the Center for Interdisciplinary Research (ZiF) of Bielefeld University from March 19 to 21, 2018. The conference is a joint endeavor of these three partners. The conference highlights the impact of big data on medicine and biotechnology. Major topics addressed are
Big Data in Medicine
Big Data in Biotechnology
Cloud Computing
Use Cases in Life Sciences
Legal and Ethics Issues
The conference programme consists of plenary lectures, short oral presentations and poster presentation. I look forward very much to welcome you in Bielefeld!
Alfred Pühler (Chair of the Organizing Committee)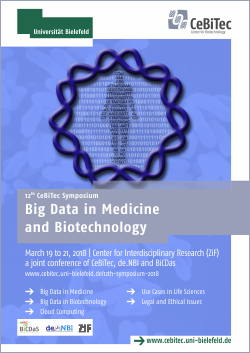 Programme of the 12th CeBiTec Symposium
Monday, March 19, 2018
11:00 Registration & Snacks
13:00 Opening of the Symposium (A. Pühler)
G. Sagerer, Rector of Bielefeld University
O. Kruse, Director of the CeBiTec
13:30 Big Data in Medicine I ( A. Pühler, J. Kalinowski)
Oliver Kohlbacher, Eberhardt Karls Universität Tübingen, DE
From Big Data to Individual Treatments – Data Integration for Personalized Cancer Therapies
(Keynote Lecture)
Christophe Beroud, AIX Marseille Universite, FR
The Human-Copy Number Variation ELIXIR community
Stefan Niemann, Forschungszentrum Borstel, DE
Genomics for transmission analysis of multidrug resistant mycobacteria
15:15 Coffee break
15:45 Big Data in Medicine II (J. Kalinowski)
Erik C. Brunnegard, Roche Diagnostics, Basel, CH
Medical value digitalized
Frank Schacherer, Qiagen, Hilden, DE
Interpreting Big Data for Insight
Derek Gutzeit, Roche Pharma AG, Grenzach-Wyhlen, DE
Foundation Medicine – Making Big Data in Cancer Treatment Meaningful
17:15 Coffee break
17:45 Short Contributions of Young Scientists (A. Tauch)
Mohamed Abouelhoda, Cairo University, EG
Large Scale Medical Genome Projects: Challenges and Opportunities
Linda Sundermann, Bielefeld University, DE
Onctopus: Lineage-Based Subclonal Reconstruction of Cancer Samples
Liren Huang, Bielefeld University, DE
Cloud-Based Bioinformatics Framework for NGS Data
Christian Quast, Jacobs University Bremen, DE
SILVA – a comprehensive online resource for high-quality ribosomal RNA sequence data
19:00 Mixer/Poster Presentations
Tuesday, March 20, 2018
special de.NBI-ELIXIR day
9:00 Use Cases Session I (A. Goesmann)
John Hancock, ELIXIR Hub, Hinxton, UK
Introduction to ELIXIR Use Cases
John Hancock, ELIXIR Hub, Hinxton, UK
Human Genomics and Translational Data
Marco Roos, Leiden University, NL
Infrastructure for the rare disease community by connecting data, tools, and people
10:30 Coffee break
11:00 Use Cases Session II (U. Scholz)
Laura Clarke, EMBL-EBI, Hinxton, UK
The Human Cell Atlas Data Coordination Platform
Paul Kersey, EMBL-EBI, Hinxton, UK
Bioinformatic Infrastructure for Deciphering Life
Claire O'Donovan, EMBL-EBI, Hinxton, UK
The Elixir Metabolomics Community and Impementation study on metabolite identification
12:30 Lunch
13:30 Use Cases Session III (F.O. Glöckner)
Nils Peder Willassen, Arctic University of Norway, Tromsö, NO
The ELIXIR Marine Metagenomics Community – past, present and future
Jildau Bouwman, TNO Zeist, NL
Working towards food and nutrition research infrastructure
Juan Antonio Vizcaino, EMBL-EBI, Hinxton, UK
The ELIXIR Proteomics Community
15:00 Coffee
15:30 Use Cases Session IV (W. Müller)
Frederik Coppens, Ghent University, BE
The ELIXIR Galaxy Community: facilitating data analysis in life sciences at European level
Jean-Loup Faulon, Micalis-UMR, INRA, Jouy-en-Josas, FR
The Microbial Biotechnology Emerging Community
Damiano Piovesan, University of Padova, IT
Intrinsically Disordered Proteins
Oliwia Makarewicz, Universitätsklinikum Jena, DE
The burden of multi-resistent Gram-negative bacteria
17:30 Coffee
18:00 Distinguished Symposium Lectures (A. Pühler)
Eva Winkler, Nationales Centrum für Tumorerkrankungen, Heidelberg, DE
Ethical aspects of medical data
Kai Cornelius, University of Regensburg, DE
Legal aspects of medical data
19:30 Symposium Dinner
Wednesday, March 21, 2018
09:00 Big Data in Biotechnology (K. Niehaus)
Kai Blin, Technical University of Denmark, Lyngby, DK
Finding a bounty of new bioactive compounds in microbial genome data. Genome Mining with antiSMASH
Nadine Ziemert, University of Tuebingen, DE
Novel Tools and Methods for Genome Mining and Prioritization of Biosynthetic Gene Clusters in Bacteria
Konrad U. Förstner, University of Würzburg, DE
Translating high-throughput sequencing data to new insights of gene regulation
10:30 Coffee break
11:00 Cloud Computing (C. Lawerenz)
Alexander Sczyrba, Bielefeld University, DE
Metagenomics analyses in the de.NBI Cloud
Brian O'Connor, University of California, Santa Cruz, US
Large-Scale, Cloud-Based Analysis of Genomic Data: Emerging Standards from the GA4GH
Hatem Nawar, Google, UK
Pushing the boundaries of what is possible in bioinformatics and medicine with Google Cloud, Big Data and Artificial Intelligence
12:30 Lunch
13:30 Round Table Discussion, Legal and Ethical Aspects of Big Data in Medicine and Biotechnology (R. Decker)
Michael Lindemann, Universität Bielefeld, DE
Susanne Hähnchen, Universität Bielefeld, DE
Katharina Beier, Universitätsmedizin Göttingen, DE
Tade M. Spranger, Universität Bonn, DE
15:00 Concluding Remarks (R. Decker, BiCDas, Bielefeld University)
15:30 End of Symposium
Organizing committee
Tanja Dammann-Kalinowski (Bielefeld)
Reinhold Decker (Bielefeld)
Nils Hachmeister (Bielefeld)
Doris Jording (Bielefeld)
Jörn Kalinowski (Bielefeld)
Irena Maus (Bielefeld)
Karsten Niehaus (Bielefeld)
Alfred Pühler, chair (Bielefeld)
Alexander Sczyrba (Bielefeld)
Werner Selbitschka (Bielefeld)
Andreas Tauch (Bielefeld)
Stefan Weidner (Bielefeld)
Registration
closed.
Conference venue
The conference will be held at the Center for Interdisciplinary Research (ZiF) of Bielefeld University, Methoden 1, 33615 Bielefeld.
Travel Information
Detailed information on how to travel to Bielefeld and the Center for Interdisciplinary Research of Bielefeld University can be found HERE.
By tram
Tram line 4 from central station or Jahnplatz, direction Lohmannshof, exits 'Bültmannshof' or 'Universität'
By bus (directly)
Bus 21 from Jahnplatz, direction Gesamtschule/Werther
Bus 61 from central station or Jahnplatz, direction Halle/ZOB
Bus 62 from central station or Jahnplatz, direction Borgholzhausen/Schützenhaus
All bus lines: Exit at bus stop 'Uni-Studentenwohnheim', duration ca. 12 minutes.
Further Information
For further information please contact
This email address is being protected from spambots. You need JavaScript enabled to view it.
Acknowledgement
The 12th CeBiTec Symposium is jointly organized by CeBiTec, BiCDaS and de.NBI